Beauty News LA, the sister publication of Beauty News NYC, emerged as the first online beauty magazine in the world. It was founded by designer Kimberly McDonald in the year 2005 and it offered readers with the best and latest in the fields of lifestyle, entertainment, fashion and beauty from LA and from all over the world. Beauty News LA tries to uncover unique and exciting products, services and destinations and showcases them to its readers by offering genuine and unbiased reviews. Beauty News LA employs a diverse group of writers who boast of having varied experiences. It is headed by B. Kim Taylor and Candice Sabatini since the year 2011 and it is now known to be one of the most respected and revered online beauty publications.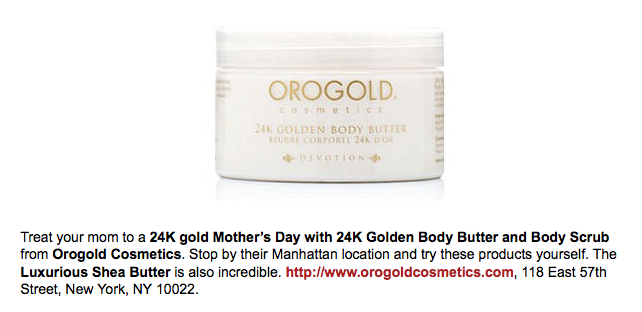 Beauty News LA articles connect well with skin care enthusiasts, culture buffs, professional women, makeup junkies, home décor lovers, spa maniacs, metro moms and a sophisticated group of people from all over LA. It reaches out to its readers through multiple channels and some of its most popular sections are the Travel Section, City Pulse, Dating Section, How To Section, Health & Fitness Section, Deal of the Day and the Wines & Spirits Section.
What makes Beauty News LA so popular and respected among its readers is that the magazine is never influenced by its sponsors and advertisers. It never reviews a product until and unless it believes in the product and it is famous for offering readers with genuine and unbiased reviews each and every time.
OROGOLD Cosmetics was delighted to be featured by Beauty News LA in an article where the author decided to showcase the 24K Golden Body Butter and Body Butter. The author suggests these products to readers as the ideal gifts for their mothers and also introduces the OROGOLD Manhattan Store to them. The article also features the Luxurious Shea Butter and terms it as "incredible".
OROGOLD is overjoyed to have its products showcased by one of the best beauty publications of LA. We certainly have excellent gifts for your moms, but we also offer you with exciting and unique collections and products to help you give your skin a flawless look. Walk into the nearest ORO GOLD Store for a free demonstration of our products.