Chic Luxuries is a popular lifestyle blog that offers its readers with exciting tips, information and advice on all things to do with home accessories, skin care, fashion, beauty, travel and gourmet luxuries. It features products from all sorts of brands and offers its readers with authentic unadulterated reviews. Chic Luxuries became popular for featuring products that people use in their everyday lives and if there is a product that doesn't deliver on its promises, you won't find it being featured on Chic Luxuries.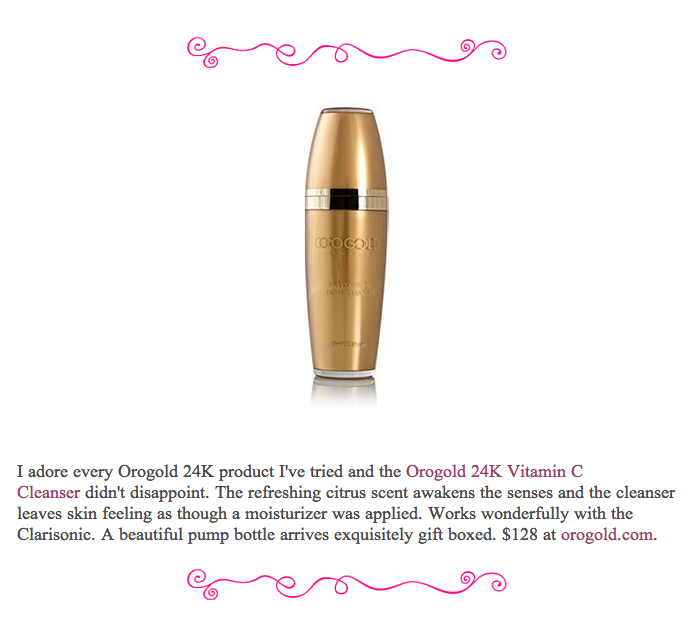 This lifestyle blog is run by a dynamic team of bloggers and reviewers who come from all sorts of backgrounds. Their team features a corporate vice president, a college graduate, an entrepreneur, a mom and a teacher. The reviewers of Chic Luxuries are located in New York and the Rehoboth Beach area and you can find them anywhere their travel assignments take them.
OROGOLD was delighted to have the 24K Vitamin C Cleanser reviewed by Chic Luxuries. In an article titled "Favorite Things Summer Edition, the author features the 24K Vitamin C Cleanser. In this article, the author talks about the experience with the Vitamin C Cleanser. The author mentions that our cleaner doesn't disappoint, that its citrus scent awakens the senses and that the cleanser leaves the skin feeling as though a moisturizer was applied.
The ORO GOLD 24K Vitamin C Cleanser is one of our most popular cleansers and it is particularly loved by customers with sensitive skin. We are glad to have this product featured on Chic Luxuries and we aim to continue with the good work. A special thank you to all our customers for loving us all these years and supporting us through those initial phases.