HollywoodLife.com was launched in the year 2009 and it has managed to become one of the top online guides for women between the ages 18 – 34 within a very short time. The website is famous for covering the latest on subjects of fashion, celebrities, entertainment, beauty, skin care and baby news. The website has literally managed to attract record breaking traffic on a monthly basis and it can be accredited with exciting and emotional content that can instantly connect to the site's female audience.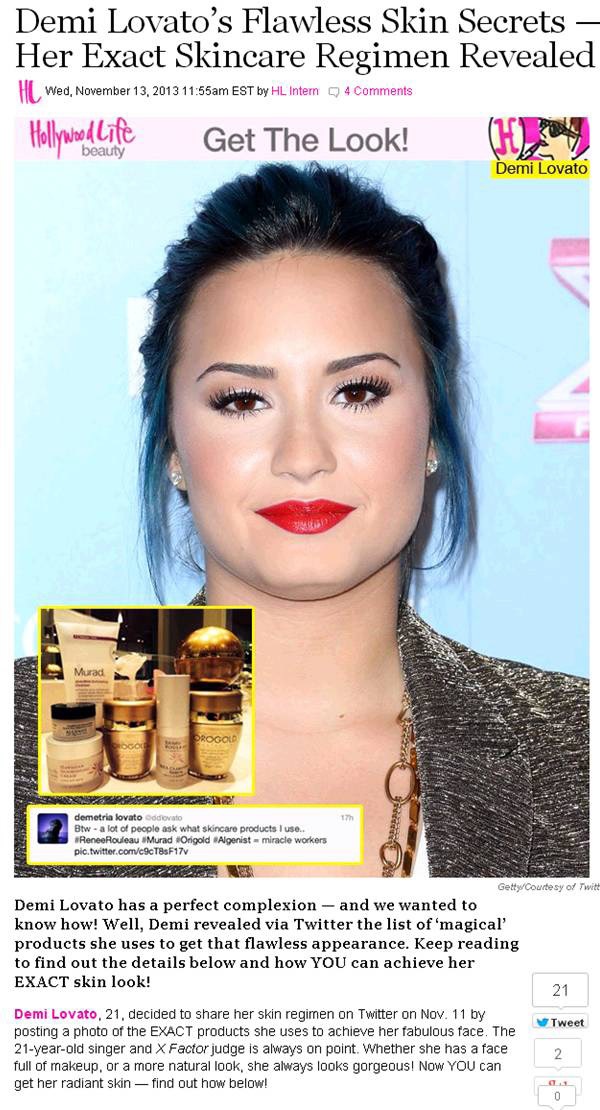 HollywoodLife.com isn't just about reporting the latest scoops, it is also about offering greater insights into the personal lives of your favorite celebrities. It allows you to identify with their achievements, trials, diversions, practices, ideologies, beliefs, obsessions and romances. Moreover, HollywoodLife.com also showcases live coverage of pop culture events as well award shows to help keep things interesting.
In an article titled "Demi Lovato's Flawless Skin Secrets – Her Exact Skincare Regimen Revealed", HollywoodLife.com talks about celebrity singer and X-factor judge Demi Lovato's post on Twitter in which she shared insights about the skin care products that she uses to make her skin look flawless and beautiful.
The article states that Demi uses the OROGOLD 24K Deep Peeling to get clear skin. HollywoodLife.com also reviews the product by stating that this product "takes a layer of dry cells off the face to reveal smoother and younger looking skin". The article further mentions that Demi uses the OROGOLD 24K Multi-Vitamin Day Moisturizer and the 24K Multi-Vitamin Night Nourishment.
HollywoodLife.com reveals how these products work on your skin with lines like "the OROGOLD 24K Multi-Vitamin Day Moisturizer is used during the day after your face is thoroughly cleansed" and "To use (the 24K Multi-Vitamin Night Nourishment), just apply a  generous amount to the face and neck before you go to bed – wake up with smooth and fresh looking skin!"
OROGOLD is highly grateful to Demi Lovato for sharing her love for our products on her Twitter account and to HollywoodLife.com for reporting the same to its viewers.