Spafinder Wellness is the largest marketing, gifting and media company in the world when it comes to the wellness industry. The magazine boasts of having an experience of 30 years as a major authority in the world of spas and wellness. It offers millions of people from all over the world with inspirations to live well and lead a healthy and fulfilling life. The brand is famous for its global reach and it is famous for its history of investment and innovation.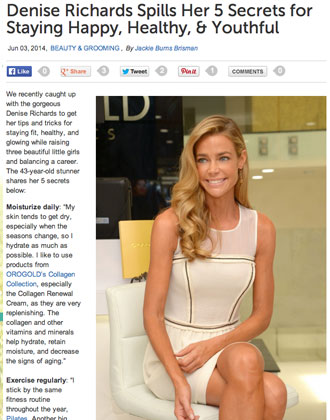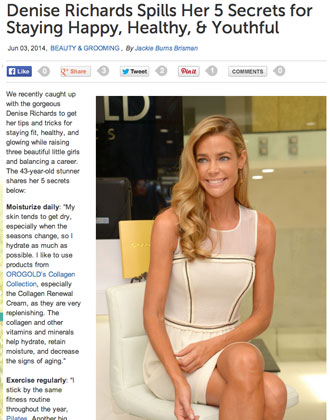 Spafinder Wellness follows a philosophy of inspiring wellness all 365 days of the year. It believes that keeping well is a 365 day job and this signifies the holistic philosophy adopted by the brand when it comes to caring for your mind, body and soul. The brand realizes that wellness usually means different things to different kinds of people. This is why it offers refreshing insights and advice on all sorts of topics such as beauty, skin care, healing the mind, karma, nutrition, fitness, relationships and entertainment.
Spafinder Wellness is the ideal place to learn about the latest trends, book your favorite classes or spa treatments, give that someone special the perfect gift, enjoy excellent last minute deals and discover the best places to travel.
In an article titled "Denise Richards Spills Her 5 Secrets for Staying Happy, Healthy & Youthful" that appeared on Spafinder on June 3, 2014; author Jackie Burns Brisman talks about her interview with celebrity actress Denise Richards where she gets Denise to spill out her beauty secrets which allow her to enjoy flawless looking skin at the age of 43, despite a demanding career and having to raise three little girls. Jackie is the Senior Editor at Spafinder. Born and brought up in Jersey, Jackie is known for her love for the beach. She is particularly crazy about leopard prints, neon colors and beauty products. Before joining Spafinder Wellness, Jackie had also worked for MTV News, Women's Health Magazine and CBS Sports.
One of the five secrets spilled out by Denise was that she moisturizes her skin daily. Denise talks about the effects of season change on her skin. "My skin tends to get dry, especially when the seasons change, so I hydrate as much as possible". Denise also talks about the OROGOLD 24K Collagen Collection. "I like to use products from the OROGOLD Collagen Collection, especially the Collagen Renewal Cream, as they are very replenishing". She mentions how the products work on her skin. "The collagen and other vitamins and minerals help hydrate, retain moisture and decrease the signs of aging".
We thank Denise Richards for believing in our products and for everything that she has done for OROGOLD as our brand ambassador. We also thank Jackie and Spafinder for this insightful article which is bound to help people understand the best way to take care of their skin.