The Boston Globe is a local daily of Boston that was founded by Charles H. Taylor in the year 1872. The Boston Globe is considered to be one of the most prestigious newspapers in the US and it has managed to win 23 Pulitzer Prizes since the year 1966.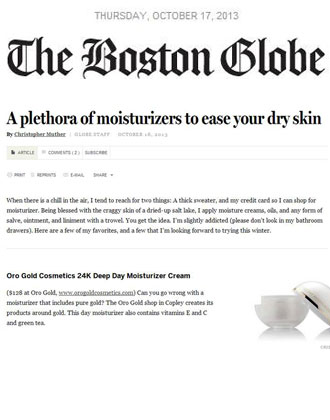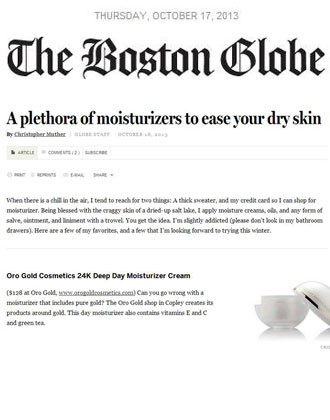 The Boston Globe also runs two major websites – the BostonGlobe.com and Boston.com. BostonGlobe.com was designed as a subscriber based site which offered content from the printed paper while Boston.com emerged as one of the first regional news portals. BostonGlobe.com was designed to offer readers with a premium reading experience that tried to emulate the visual appearance of the Boston Globe Newspaper. The site was also known to be one of the first websites to adapt its layout to responsive designs so that it could be read in Smartphones as well.
In an article titled "A plethora of moisturizers to ease your dry skin" that appeared in The Boston Globe on October 16, 2013; author Christopher Muther talks about the importance of a moisturizer during the chilly months. Christopher says that since he has been suffering from craggy and dry looking skin, he is extremely serious about moisture creams, oils and other forms of salve. Christopher further offers readers with insights into his favorite moisturizers and a few products that he wishes to try out the coming winter. Christopher is a columnist for the Boston Globe who covers everything – right from global destinations and travel trends to the best local haunts.
Cristopher mentions the OROGOLD 24K Deep Day Moisturizer Cream as one of his top choices. "Can you go wrong with a moisturizer that contains pure gold?", he asks. He also mentions that the ORO GOLD Store in Copley offers customers with products that contain gold as the signature ingredient as well as other beneficial ingredients like Vitamins C and E and Green Tea.
We thank Cristopher for acquainting readers of The Boston Globe with the ORO GOLD 24K Deep Day Moisturizer Cream and hope to offer the people of Boston with exciting skin care products that can completely transform the way their skin looks this winter.