Just Luxe is a luxury web publication that tries to offer its readers with insights, information and an in-depth analysis about some of the most affluent luxury goods and services as well as travel destinations. The publication offers an excellent choice of content in about 40 different categories, including yacht & aircraft charter services, news and trends, fashion, luxury travel, etc. Other popular categories featured by Just Luxe include city guides, luxury hotels, luxe epicure and lifestyle. You can find numerous articles and tidbits of information for each of these categories and Just Luxe is bound to help you satiate your thirst for information on your favorite topics.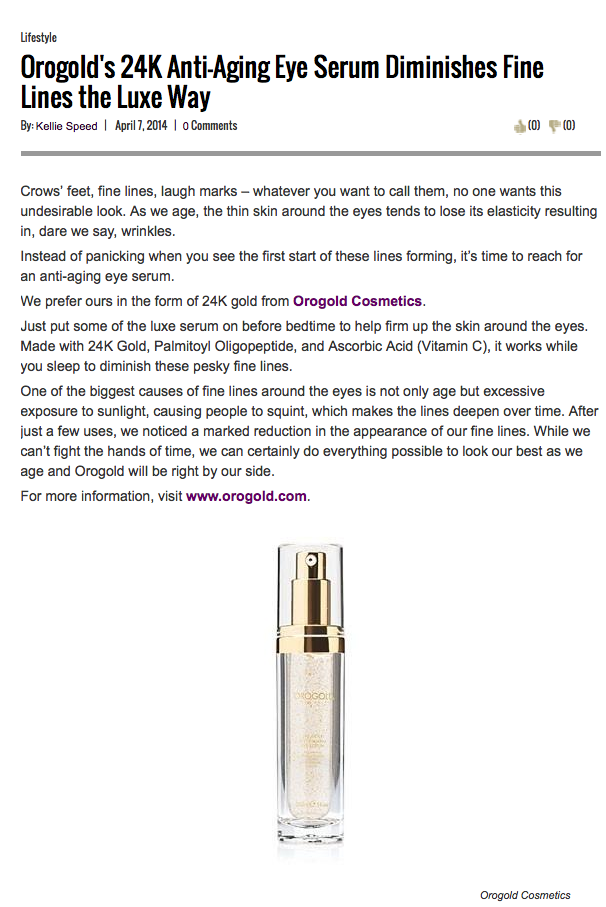 In an article titled "OROGOLD's 24K Anti-Aging  Eye Serum Diminishes Fine Lines the Luxe Way", author Kellie Speed reviews the ORO GOLD 24K Anti-Aging Eye Serum and the wonders that it has to offer. Kellie is a Boston City Guide editor for Just Luxe who boasts of having an experience of more than 20 years as a freelance writer. Kellie has already written for all sorts of local, regional and national publications and her works have also been included in the Moon Metro Boston Guidebook.
In this article, Kellie informs her readers that crow's feet, fine lines, laugh marks are a few signs of aging that can lead to undesirable looks. She also mentions that as the skin begins to age, wrinkles begin to form on the skin, particularly around the eye area. Kellie advices her users to start using an eye serum the moment they see the signs of aging and recommends the OROGOLD 24K Anti-Aging Eye Serum as her preferred choice. She talks about some of the ingredients contained in this unique serum from OROGOLD Cosmetics and explains exactly how OROGOLD and its products can help readers to look their beautiful best.
OROGOLD thanks Kellie and Just Luxe for featuring the 24K Anti-Aging Eye Serum, one of the most selling products from our 24K Eye Collection.