Women's Running Magazine is the largest running magazine in the world that specifically caters to women. This exciting magazine covers different aspects of the running lifestyle and it advises on the various beauty needs as well as training plans. The magazine basically tries to offer smart and successful women who love to enrich and balance their lives with a top notch magazine that offers them with all the tips and advice that they are ever likely to need when it comes to running. The magazine not only features quality editorials which empower women to train properly, it also allows them to stay abreast with the latest fashions and the most healthy nutrition habits.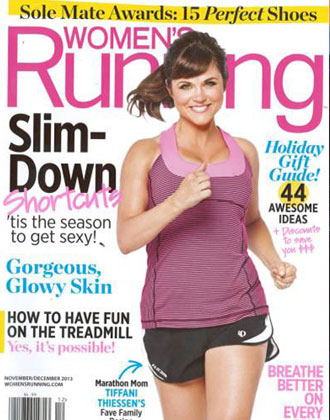 This go-to source is ideal for fitness-minded women who are actively persuing their dreams. The magazine empowers its ever growing community to lead a healthy lifestyle with the help of beautiful content that focuses on various areas of wellness, running, nutrition and fitness. You can find the Women's Magazine at over 4000 retailers, the most notable ones being REI, Eastern Mountain Sports and Barnes & Noble.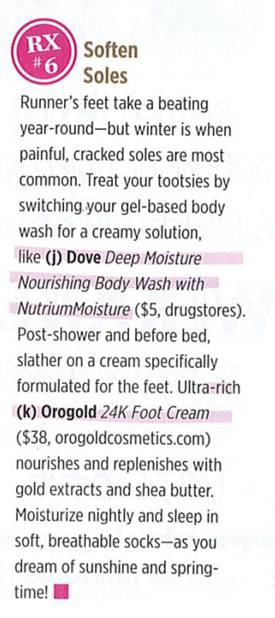 In an article titled "Dry Spell – Winter is coming.. is your skin ready?", the author offers readers with insights into some of the best products to protect their skin from the dry winter months. The author featured the OROGOLD 24K Foot Cream in the Soften Soles category where she provides suitable solutions for runners who usually suffer from cracked soles during the winter months. She offers readers with information about two of the best creamy solutions to treat those tootsies. One of the products featured in this section is the 24K Foot Cream from ORO GOLD.
The author describes the 24K Foot Cream as one that "nourishes and replenishes with gold extracts and shea butter. She also offers insights on how to use this cream. "Moisturize nightly and sleep in soft, breathable socks – as you dream of sunshine and springtime".
OROGOLD Cosmetics would like to thank Women's Running Magazine for showcasing the OROGOLD 24K Foot Cream in this highly informative and interesting article.