Examiner.com was launched in the year 2008 as a lifestyle, entertainment and news network which boasts of a viewership of more than 20 million monthly viewers from all over the world. Examiner.com is a unique website where the content is provided by independent self-motivated contributors who express their feelings and thoughts with the help of interesting words and beautiful photos. Each examiner is asked to write on topics that suit his/ her expertise so as to offer viewers with an interesting mix of highly specialized content.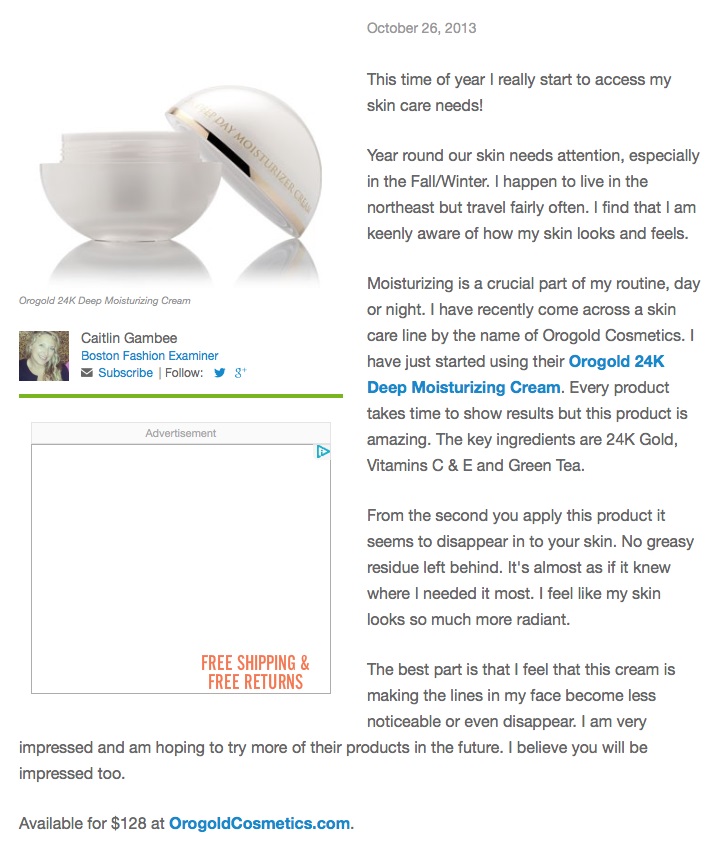 By the year 2009, Examiner.com was named as one of the fastest growing networks of local websites. In fact, it grew at a faster rate than any other major news website in the US, with its page views increasing more than 342% and the website attracting almost 7569000 users. Another interesting stat about Examiner.com is that in the month of July 2010, Examiner.com served a total of 60.1 million page views. Today, examiner.com adds almost 3000 articles per day to its already overflowing network of more than 1.5 million articles.
In an article about examining the skin care needs for the fall/ winter season, Boston Fashion Examiner Caitlin Gambee talks about the OROGOLD 24K Deep Moisturizing Cream. Caitlin is a Boston based publicist who specializes in reviewing brands associated with fashion and beauty. Caitlin has worked in all sorts of fashion brands, right from startups to global conglomerates. She also likes to devote time to the Colon Cancer Coalition in her free time.
In her article, Caitlin states that moisturizing is a crucial part of her morning and night skin care routine. She talks about her introduction to OROGOLD Cosmetics and states how the 24K Deep Moisturizing Cream has helped her transform her skin care. She says that products normally take time to show results, but the 24K Deep Moisturizing Cream is amazing. She also describes how our product feels on the skin with lines like "from the second you apply this product it seems to disappear into the skin. No greasy residue left behind" and "I feel like my skin looks so much more radiant."
Furthermore, Caitlin says that the ORO GOLD  24K Deep Moisturizing Cream can make the facial lines less noticeable and she hopes to try out more OROGOLD products in the future. We thank Caitlin for perfectly summarizing the 24K Deep Moisturizing Cream and welcome her into the OROGOLD family. We also thank Examiner.com for featuring our product on their highly popular website.