The South Florida Luxury Guide is a resource guide that offers its customers with greater insights on various fields such as entertainment, luxury products, lifestyle and services. It is believed to be the best place to find out more about all things luxurious in South Florida. The magazine is published bi-monthly and it boasts of almost 60000 subscribers. The guide tries to keep its readers informed about the best and the latest so that they can enjoy their life to the fullest.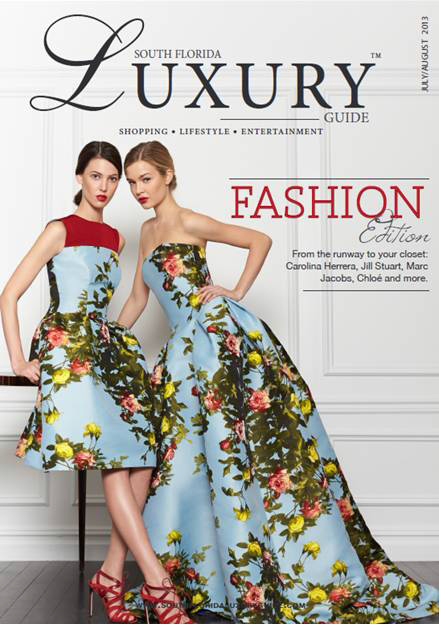 If you're looking for information on the finest luxury retailers including fine jewelry, beauty, skin care, interior design, private jets, automobiles, travel, home electronics, wine, art, fashion and more; there is no better place than the South Florida Luxury Guide. The magazine has specialized in offering its readers with rich content that inspires them to explore their inner talents, learn about the newest entrepreneurs, stay in touch with the latest trends and travel the world.
The South Florida Luxury Guide showcased the 24K Anti-Aging Eye Serum and the 24K Deep Peeling in the beauty section of its July/ August 2013 issue. Both these products are among our best selling products and OROGOLD customers have particularly loved the wonders that these products have to offer.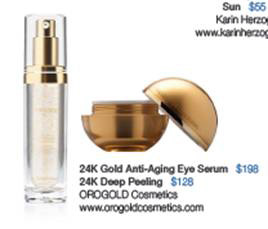 The OROGOLD 24K Anti-Aging Eye Serum has been formulated using an exciting range of skin care ingredients to help you deal with the sensitive skin around the eye area. This product helps you to reduce the appearance of crow's feet and also gives the skin around your eyes a firmer look. The ORO GOLD 24K Deep Peeling has been designed to offer your skin with a thoroughly cleansed look. This product contains ingredients like Vitamins C and E and it gives your skin a polished and renewed look without making it look dry or moistureless. The 24K Deep Peeling is also known to be one of Demi Lovato's favorite OROGOLD products.
We thank the South Florida Luxury Guide for featuring these two products in its exciting magazine.